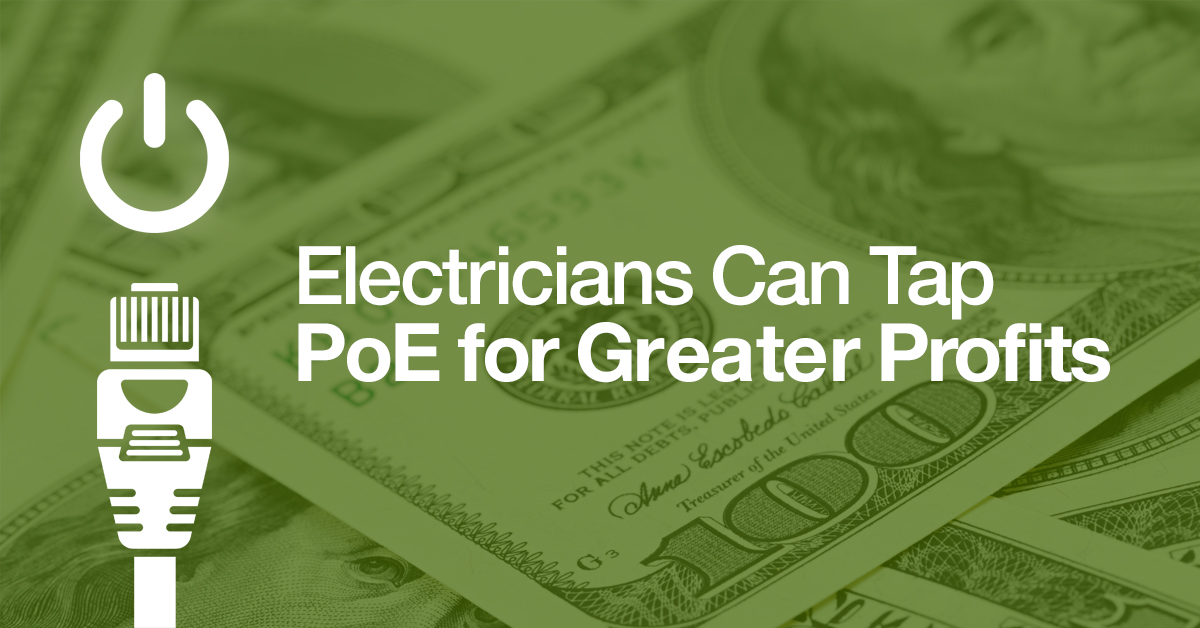 The 2017 revision to the National Electrical Code (NEC) is coming, no matter what, but whether it will answer every question about Power over Ethernet (PoE) or not is still up in the air. PoE is progressing so fast it does not even have full standards yet, though the Institute of Electrical and Electronics Engineers (IEEE) is scrambling to provide them. With the rising innovations coming in the Internet of Things (IoT), PoE is both an opportunity and a challenge.
IoT
The Internet of Things is tomorrow's futuristic world today. Having a telephone that talks to your front door lock from your vacation home 1,000 miles away may seem like a far fetched plot line from The Jetsons, but the IoT allows this and more.
Most IoT devices draw little power. PoE, with its promise of power levels up to 100W (IEEE 802.3BT), will allow cables and cable bundles to run power for a lot of new markets:
Nurse call systems—Typically 50W

Point of sale readers and printers—30W to 60W

Financial trade floor telephony—45W

Lighting fixtures, lighting controllers, and access controllers—40W to 50W range

Virtual Desktop Infrastructure (VDI) terminals—50W

Thin Clients—50W

Video conferencing–45W to 60W

IP security cameras (with pan, tilt and zoom capability)—30W to 60W range

Brushless drives, motor control units—Above 30W
Opportunity
Daniel G. Walter, vice president and COO, National Electrical Contractors Association (NECA), is quoted in Electrical Contractor magazine as saying, "In my opinion, there is a certain inevitability, and PoE should be viewed as an opportunity. There certainly is similarity with voice over internet protocol [VoIP] technology, so maybe the jump to PoE isn't so foreign a concept.
"The integration of IoT, including increasing use of sensors for multiple purposes and components to transfer that sensor data, place electrical contractors (ECs) in an enviable position,"says Walter.  "ECs could help build the backbone and be the integrator for these building systems and the assortment of devices they will require."
What is this opportunity worth? London-based Memoori, a market research firm, pegs IoT for buildings at $85 billion by 2020. The three largest market segments:
Physical security

Lighting control

Fire detection and safety
Added connectivity within building systems puts sensors, lighting and access controls all within the grasp of PoE.
Downsides?
For electrical contractors, much work still remains. Standards are still coalescing. The electrical system we have has taken over 100 years to reach a level of reliability and simplicity that comforts office workers and homeowners alike. With PoE, will homeowners tolerate having to reset basic lighting fixtures after a power outage? Will electrical contractors have redundancies and solutions to bring PoE to the same level of transparent technology as 120V outlets are today?
Discounting the early adopters and novelty seekers who long to power their boss's coffee maker from across the cubicles, or who thrill to checking their vacation home's thermostat from the office, energy-saving, cost-saving future applications for the IoT are here:
Electrical contractors can sell clients on the expanded sensor sampling opportunities for environmental and fire safety controls by having more objects read conditions more often

Retailers can harness internet-connected lighting to identify a shopper's location within a store, send a code to the smartphone, and identify to the customer promotions, catalog alternatives to store stock, and more

Information technology (IT) and cybersecurity specialists are reassured by PoE since cabling means physical connectivity, not wireless

(read: easily hacked)

routers
At one time not too long ago the internet itself was a brave frontier. Power over Ethernet may still be brushing off some of its frontier dust, but the wise electrical contractor can see the path forward to profits: PoE.