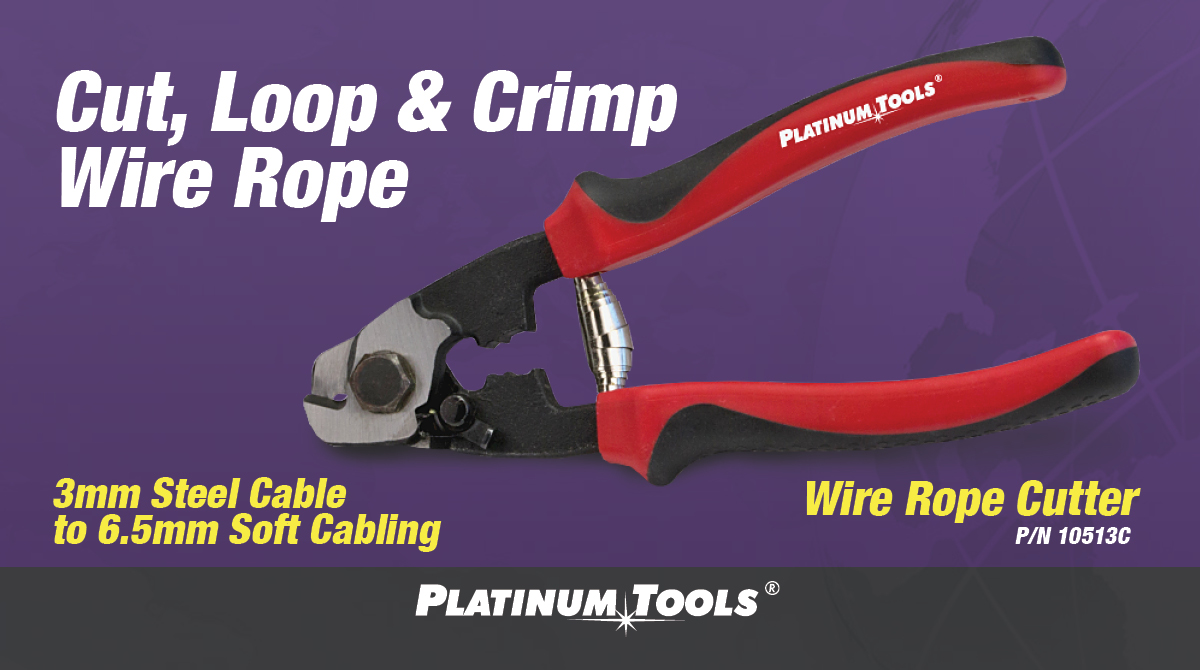 Wire rope is a material used in a multitude of different industries, from military applications to construction to DIY projects by a casual homeowner. Low-cost and versatile, wire rope is chosen primarily for its heavy load bearing capabilities and for its reliability, flexibility, and its ease of operation and maintenance. However, installing wire rope can be difficult, especially if the ends of the wire rope have been frayed by an inefficient cutter, like a hack-saw or a grinder. This makes it almost impossible to insert wire rope into the appropriate fittings, such as clamps, thimbles, ferrules, or sleeves.
So instead of cutting your wire rope with a hack-saw, grinder, welding torch, or even a Dremel tool – which is both time consuming and potentially dangerous – use a dedicated wire rope cutter like the Platinum Tools Wire Rope Cutter.
Made from carbon tool steel with a rust resistant black oxide finish, the Wire Rope Cutter is designed to cut through the toughest wire rope and cable, from 3-millimeter steel rope and cable to up to 6.5-millimeter soft cabling, all with specially formulated cutting jaws that won't unwind the wire rope. The cutter has spring-loaded, comfort grip TPR handles to reduce the stress on your hands from repeated cable and wire rope cutting, as well as a storage latch to keep this cutter's tool profile small in your workbench or tool chest. Unlike most other wire rope cutters on the market, the Wire Rope Cutter even has a cavity for looping and crimping wire rope sleeves built into the handles of the cutter itself.
For professional technicians and DIYers alike – whatever their level of usage – this is a must-have two-in-one tool that is a sound, money-saving investment for both industrial use and home repair projects, or anywhere that wire rope is used.