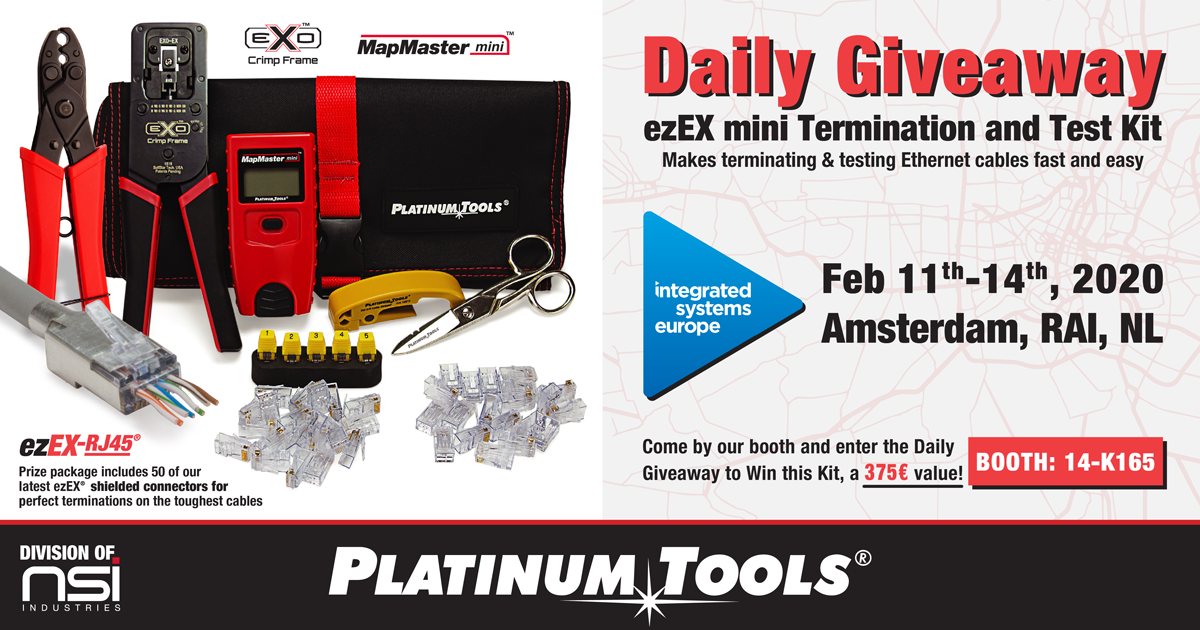 Platinum Tools is proud to announce that we are giving away four new ezEX-mini Termination and Test Kits at Integrated Systems Europe 2020.  Potential winners only need to come by the Platinum Tools booth during the show and get scanned in order to gain entry to the daily giveaway. One winner will be awarded each day of the show.
Integrated Systems Europe 2020 will be held in Amsterdam, the Netherlands.  Platinum Tools will be set up at booth 14-K165. 
The ezEX-mini Termination and Test Kit giveaway includes:
EXO Crimp Frame with EXO-EX Die
5-Inch Electricians Scissors
Cat5e/6 Cable Jacket Stripper
Crimp tool for shielded connectors
New ezEX®️38 Connectors for Cat5e
ezEX®️44 & ezEX®️48 connectors
ezEX®️44 shielded connectors
T109C MapMaster mini Cable Tester
Hanging Pouch
"This is the ideal, complete kit," said John Phillips, Platinum Tools, Inc. product manager. "Tester, crimper, scissors, stripper, and connectors, all in a handy hanging pouch. Every professional should have this on hand during every call."
The new patented EXO™ Crimp Frame is a RJ45 crimp tool that can terminate multiple sizes of cables and conductors. The crimp frame highlights interchangeable dies that allow it to work with the latest ezEX-RJ45® connectors, as well as the original EZ-RJ45® connectors. The tool design allows for future upgrades by purchasing a new die. The new ezEX-RJ45 pass-through connectors with staggered channels matched with the new EXO Crimp Frame + EXO-EX Die are specifically designed to crimp and flush-trim the protruding conductors in a single operation. This patented new termination system couples two concurrently developed and matched solutions for terminating the full range of cable sizes in use today.
"In today's networks, twisted pair cables are demanding more speed and bandwidth," explained Phillips. "To help meet these requirements, Cat5e/6/6A cables have increased in size. Both the outer diameter of the cable and the insulation diameter of the conductors are larger and vary by manufacturer, making cable and connector compatibility a challenge. Platinum Tools new patented ezEX-RJ45® Termination System is the solution…providing greater cable-to-connector compatibility to meet higher performance demands."
The MapMaster™ mini detects faults and locations of RJ45 network cables. Good terminations, causes of faults and locations of cables are displayed on an LCD display. A set of five mapping remotes is included for locating cables terminated in wall jacks or patch panels. A built-in tone generator with 4 different tone combinations can be used with a tone probe to detect where a cable is routed and the location of the end of the cable.